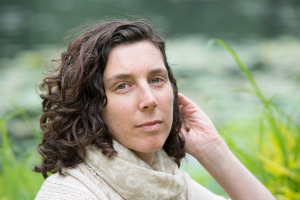 Bio By Jim Allen
Hearing the music of Wendy Beckerman is like tapping into some timeless stream where songwriting and poetry are forever intertwined. Both her voice and her songs are endowed with so much gravitas that it's hard to imagine there was a time when they didn't exist. Of course, every musician, no matter how ageless their artistry, has to start somewhere. While she was still in her teens, Beckerman made the journey across the river from her native Garden State to Greenwich Village, in pursuit of the muse. It was in the hotbed of the Village songwriter scene that Beckerman's gift as a balladeer began to blossom in the late '80s; she became a fixture on the New York City folk circuit that revolved around the Fast Folk Musical Magazine (for whose compilation albums she recorded over a dozen songs) and clubs like The Speakeasy and The Bottom Line, whose stages became her spiritual terra firma.
Growing up, Beckerman had assimilated the sounds of such first-wave singer/songwriter icons as James Taylor and Laura Nyro, but on the NYC scene that had already bred the likes of Suzanne Vega and Shawn Colvin, she honed her skills to a razor's edge. Beckerman's debut album, 1992's By Your Eyes, revealed an artist whose mature, fully formed vision belied her youth. Then, as now, her voice struck straight at the pressure point of every song, with a minimum of fuss and a maximum of quiet intensity. Similarly, her writing has always married poetic power with a terse literary economy. Her melodies, sometimes rooted in folk modalities, have the heft of tunes that have existed for generations while boasting hooks as fresh and sharp as a new reel of razor wire.
Since then, Beckerman has, of course, spread her artistic wings ever wider. She's released a total of [five] albums, toured both nationwide and abroad, and earned the admiration of colleagues, critics, and clubgoers all along the way. Some of Beckerman's peers have found her songs too enticing to resist recording themselves, and her tunes have been cut by such artists as Louise Taylor and Hot Soup, as well as turning up in the indie film Rubbernecking. Beckerman has also lent her own unmistakable tones to the recordings of Jack Hardy, Annie Gallup, Linda Sharar, and others. Beckerman makes her home in the San Francisco Bay Area these days, but wherever she hangs her hat, her commitment to her art remains unchanged.